Meet the Makers
Note: Makers are added to this list periodically. It is not complete.
---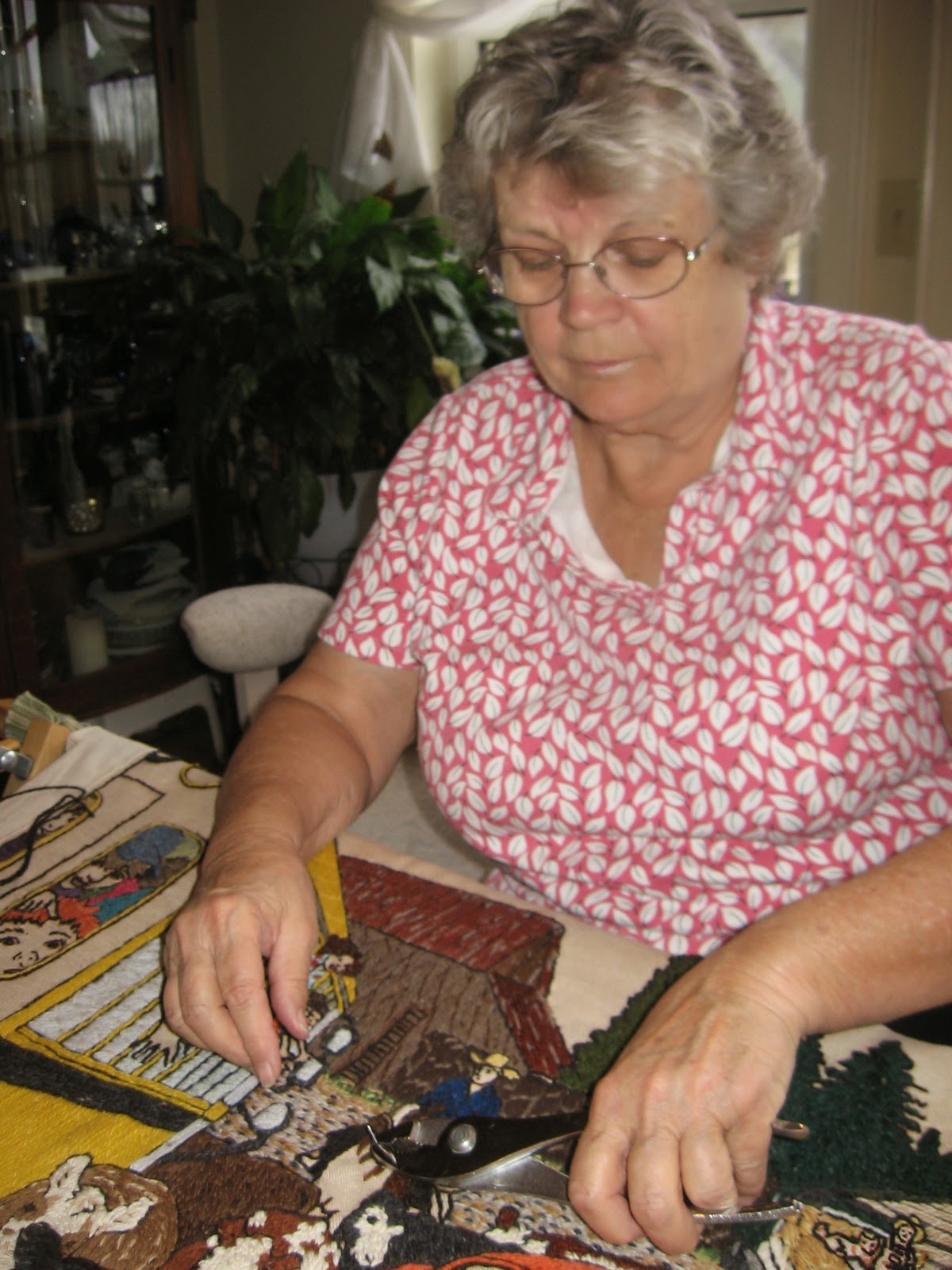 Holly Cheatham
Holly Cheatham moved to the San Juan Ridge in the first decade of the 2000s. Previously, she had visited the Ridge regularly for 12 years. She worked as a nurse and as a paramedic. She now enjoys reading and needlework of many kinds. She is also an avid photographer and painter. Her artistic intuition was a huge help in finding the color and balance in the embroideries, though she says it is harder to "get what you want" when stitching tapestries versus painting. She played the key role in creating the beading on all the tapestries.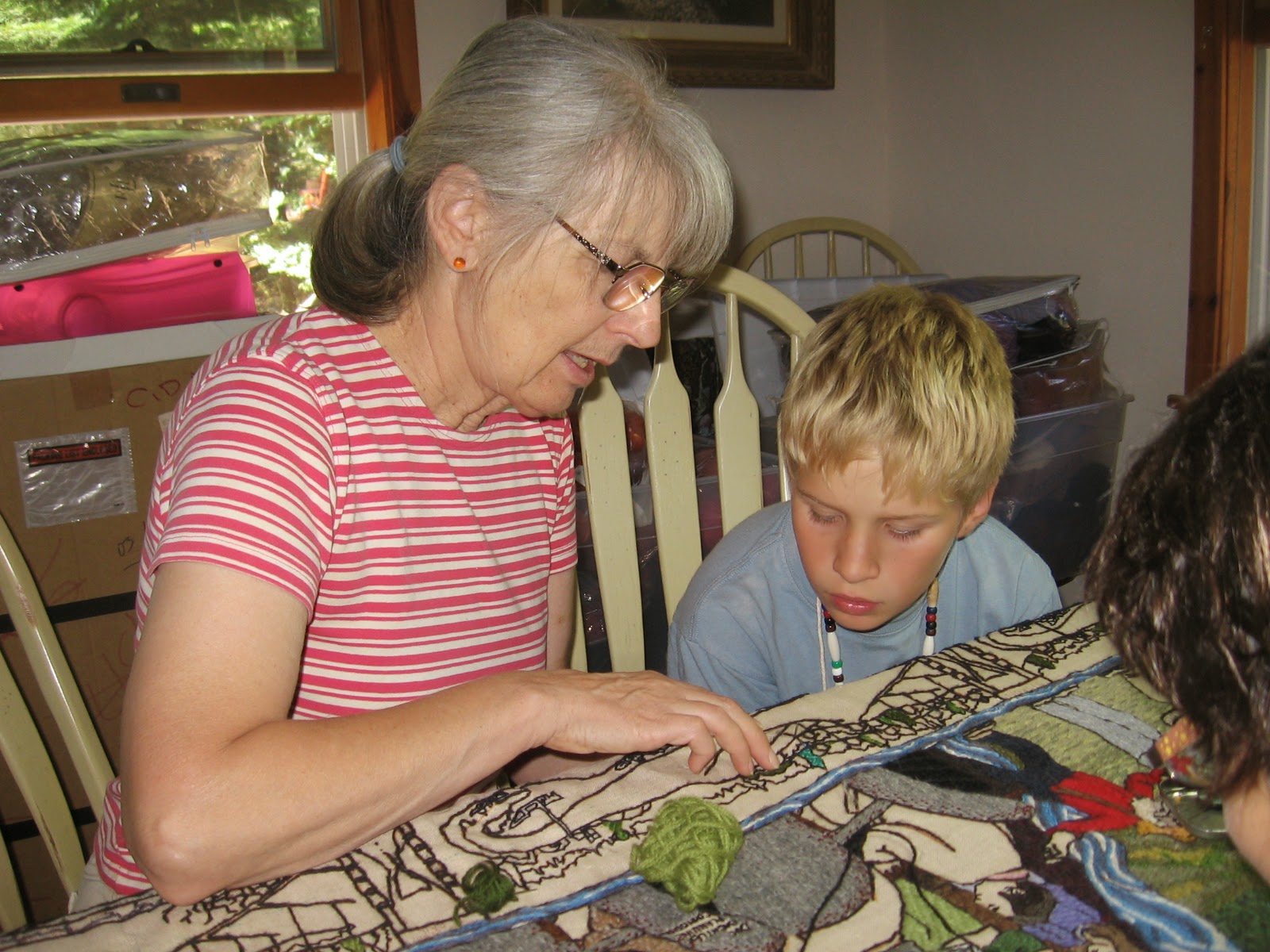 Mary Moore
Mary Moore, a Southern California native, relocated to San Juan Ridge in 2002 near her son's home. A former librarian and brief teacher, she now dedicates her time to fostering numerous dogs, quilting, and reading. Mary's knowledge of art and color theory aids her embroidery work. In 2005, she and Marsha Stone began the tapestry project, with the first piece taking four years. Her favorite pieces include the hill landscapes in "The Land Then and Now" and "Don't Mine Our Water." In October, Mary will embark on a trunk show tour to showcase her quilts and tapestries in far-flung places.
Susan Moser
Susan Moser, a native of Southern California, enjoyed reading and beach activities during her upbringing. Now residing on the San Juan Ridge, she continues her passion for reading and enjoys taking walks. Susan enjoyed the tapestry project as it attracted fascinating individuals. As the Secretary of the Blind Shady Road Association, Susan actively organizes meetings and coordinates tasks like weeding, brush removal, and road leveling. Her favorite embroidery piece is a chicken tumbling through the "Great Disruption" section of "The Land Then and Now." Ultimately, Susan treasured the comradeship fostered by the tapestry project.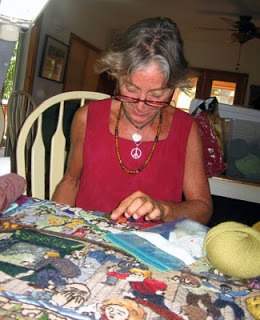 Jane Price Hill
Jane Price Hill, originally from San Francisco, now considers herself a Ridge person after residing in North San Juan for 15 years. Her journey with The Tapestry Project began when she saw the early ones showcased at the Sierra Storytelling Festival. A voice invited her to join the embroidery team, she eagerly accepted. She has received numerous compliments for her depiction of a bank safe in "Don't Mine Our Water," the heavy shading posed a delightful challenge. Jane finds solace in nature, especially the local Yuba River. She loves working in her garden and practices aikido.
Marhsa Stone
Marhsa Stone was the driving force behind the San Juan Ridge Tapestry Project in 2005. Her vision to contribute to the local community led her to initiate this endeavor. Together with Mary Moore, the Embroidery Designer and Supervisor, and artist Jennifer Crosby, Marsha has guided the project. Creating a welcoming and nurturing space aligned with Ridge values of kindness and respect is of utmost importance to her. People have shared that the tapestry room provides an escape from daily worries. Witnessing the blank linen blossom with vibrant hues and images of the community brought Marsha immense satisfaction.Mary Moore started the tapestry project with Marsha Stone in 2005 – just three years after moving to the San Juan Ridge. Before retiring, Mary worked as a librarian. She also taught for a short while. She now spends her time fostering dogs (a lot), quilting, and reading. Mary studied art and color theory, which helped her "see embroidery from a distance". Mary says her favorite embroidering is the hills in the diggings, which can be seen in "The Land Then and Now" and the dust on the left on "Don't Mine Our Water."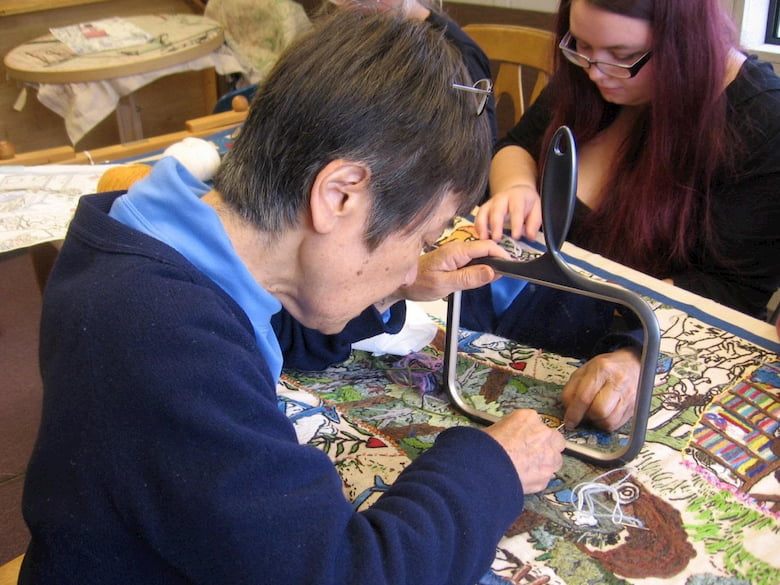 Ms. M
Known as "Ms. M", this modest stitcher has extensive experience in handwork and design, starting from her childhood when, on rainy school days, she learned French embroidery. She also studied watercolor and oil pastels and pursued a career in graphic design. Additionally, she has spun wool and knitted sweaters. She has also dedicated years to studying Bharata Natyam, a traditional Indian temple dance. Now retired, she cherishes the opportunity to stitch alongside individuals she wouldn't have met otherwise. "The Blue Cradle" tapestry holds sentimental value as her youngest child slept in the cradle.
Barbara McQuiddy
Barbara McQuiddy, a multi-talented artist, joined the tapestry stitching community after retiring from a long career teaching blind children. Her Mediterranean-style home showcases her expertise in pigmenting lime plaster walls, tile making, metal railing preparation, and decorative fountain design, Barbara's favorite tapestry project was the challenge of stitching a large rock in "The River" tapestry. We appreciated her keen eye for improving materials, such as sharpening needles, and addressing discomfort caused by frame height or fabric tension. She took responsibility for correcting unclear drawings or pattern tracings within the tapestry. 
Becky Burton
Becky Burton, Becky was a delightful addition to the stitching group; with her silver hair, big brown eyes, husky laugh and dry humor. As she says, she gets lost in the embroidery, enjoying the outcome, appreciating that the results look nice and hoping that other folks like her work.  The portion of the "Arts and Artisans" tapestry that gave her the most pleasure to stitch was the representation of her good friend Nici von Kreidt. 
Robbie Sellery
Robbie Sellery glides into the tapestry room with sparkling blue eyes and a happy smile and laugh. She has led an adventurous life, swimming with turtles in Hawaii, twice walking into the Grand Canyon down the Phantom Ranch trail and luxuriating in the vivid greens of Ireland.  Her sweetie revealed to me that she used to play volleyball at Venice Beach.  But for her, having children and grandchildren is the best experience of all.  
Recently her 3 year old granddaughter asked her to make a red nightgown that perfectly matched the one she had seen in a book. And, of course, Robbie did it to the delight of her granddaughter.
 We were all amazed with Robbie's interpretation of a large ponderosa pine tree in the Fire Department tapestry. 
Project on IndieGoGo
Project on IndieGoGo
A series of embroidered tapestries expressing the recent cultural landscape of the San Juan Ridge
$5,150 USD raised by 60 backers – 143% of goal!
See the video:
https://www.indiegogo.com/projects/san-juan-ridge-tapestry-project#/