Note: Makers are added to this list periodically. It is not complete.
---
Holly Cheatham grew up in Marin County and never lived in town. She is 71 now, and has only experienced the city life for four years. She moved to the San Juan Ridge seven years ago, though she had come visiting regularly for 12 years before.
Before retiring she had worked as a nurse and a paramedic. She now enjoys reading and needlework of many kinds (Though she doesn't knit, and wants to learn how). She is also an avid photographer and painter.
Her artistic intuition is a huge help for finding the color and balance in embroidering, though she says it is harder to "get what you want" when working with the tapestries. She plays the key role in creating the beading on all the tapestries.
One day, while at Mary Moore's home, Holly saw a tapestry in the making and was prompted to work on it. She has been involved in the project ever since.
---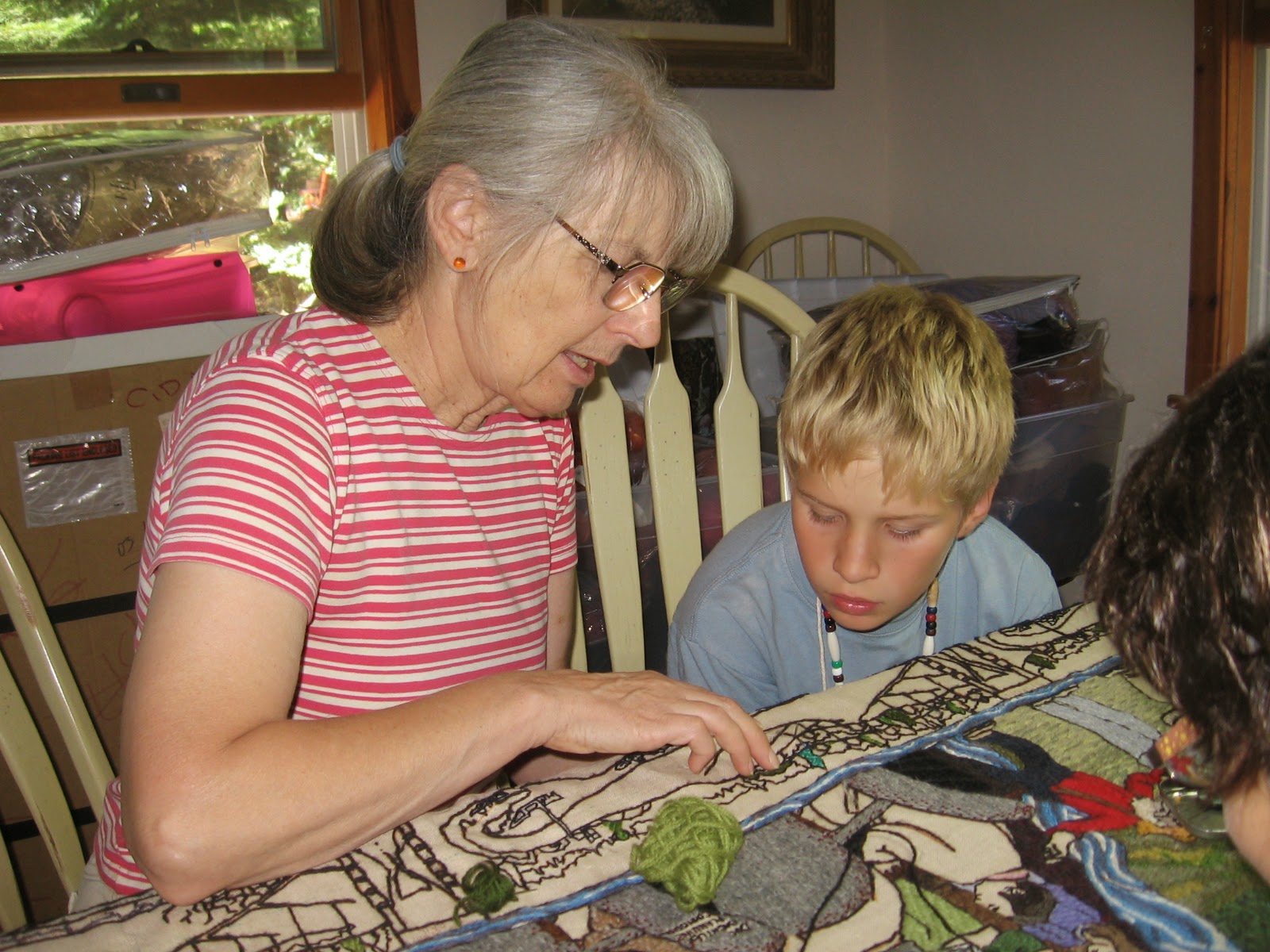 Mary Moore grew up in Southern California, and spent most of her time on the beach. She moved to the San Juan Ridge in 2002, after drawing a two hour travel circle around her son's new home. Before retiring, Mary worked as a librarian. She also taught for a short period of time, but stopped because "I liked the teaching, but not the discipline, for me and for the students". She now spends her time fostering a gazillion dogs (a lot), quilting, and reading. She also studied art and color theory, which she says helps her see embroidering from a distance, and "it can't hurt to speak the same language as the cartoonist".
She started the tapestry project with Marsha Stone in 2005, and the first tapestry spent four years in the making. There's more to tapestries than just the stitches, and planning got the better of them. In 2008, the project took off.
Mary says her favorite embroiderings are the hills in the diggings, which can be seen in "The Land Then and Now." She is also proud of the dust on the left on "Don't Mine Our Water."
In October, Mary will go on a trunk show in Downieville to show her many quilts and some of the tapestries (A trunk show is a fancy quilting term for a presentation tour which consists of stuffing as much of your work as you can into the trunk of your car and going to show it off in faraway places).
---
Susan Moser grew up in Southern California, where she liked to read and play on the beach. Now, she lives right here on the San Juan Ridge, where she still loves to read, and do things with her grandchildren. She also likes to take walks and, obviously, work on the tapestry. "I work on the tapestry mainly because it draws in so many interesting people, and you meet new people almost every day," she says.
As a San Juan Ridge dweller, Susan participates in the Blind Shady Road Association, as the Secretary, organizing meetings weeding, brush removal, leveling of the road, and many other things.
When asked what her favorite thing embroidered by herself, Susan mentions a chicken which can be found tumbling head over heels through the "Great Disruption," otherwise known as the middle section of "The Land Then and Now." Susan's favorite thing about the tapestry project is "the companionship of it all."
---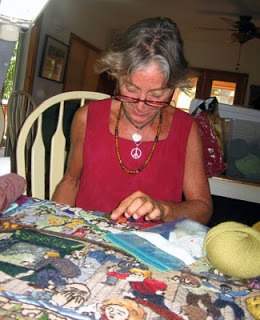 Jane Price Hill was born in San Francisco, but she feels she is more of a Ridge person due to the fact that she has lived in North San Juan for 15 years. When asked why she joined The Tapestry Project, she recalls a year in which she visited the Sierra Storytelling Festival and saw the tapestries for the first time. She was amazed at the beauty of the embroidering, and as she looked up and wondered, she heard a voice ask, "Would you like to embroider with us?" . Soon enough she was working away. She says the nicest thing she has embroidered so far is an uprooted Oak Tree in "The Land Then and Now" tapestry.
Jane has gotten many compliments regarding a safe depicted in "Don't Mine Our Water". She says embroidering the safe was a fun experience because of the challenge of the heavy shading.
Jane enjoys nature very much and is enamoured with the local Yuba River. She loves working in her garden and practices aikido.
---
You will rarely find Marsha Stone in a picture of the stitchers because of the ubiquitous hat that protects a damaged eye. It was her inspiration that started the San Juan Ridge Tapestry Project in 2005, a way to fulfill her dream of giving back to the local community.
With Mary Moore, the Embroidery Designer and Supervisor and artist Jennifer Crosby, she has steered the project since its inception, choosing the themes and suggesting some of the design elements of the tapestries. She laughs when asked how she fills her retirement days. And laughs again when asked when the last tapestry in the set of 12 will be finished.
The hardest part of the project for her was the years before the project had its home sharing a space in a local Park District's building that also houses the Community library. For the first five years, Marsha and Mary disassembled the tapestry frame, transporting frame, tapestry, and boxes of yarn twice a week between work site and Mary or Marsha's home.
She says the best part of the project has been spending time with her team and the many stitchers. It is important to her that the tapestry room is a welcoming and nurturing place and that the process at all times be congruent with Ridge values of kindness and respect. People tell her that the tapestry room is a place where they can let go of daily cares and just enjoy being immersed in color, the rhythm of stitching and the camaraderie. And, of course, she enjoys seeing the linen blossom with color and images of the community come to life.
What's next? Marsha has begun organizing a team of writers for a book about the tapestry project, hoping to have it published in coordination with a major show of the tapestries in 2021.
---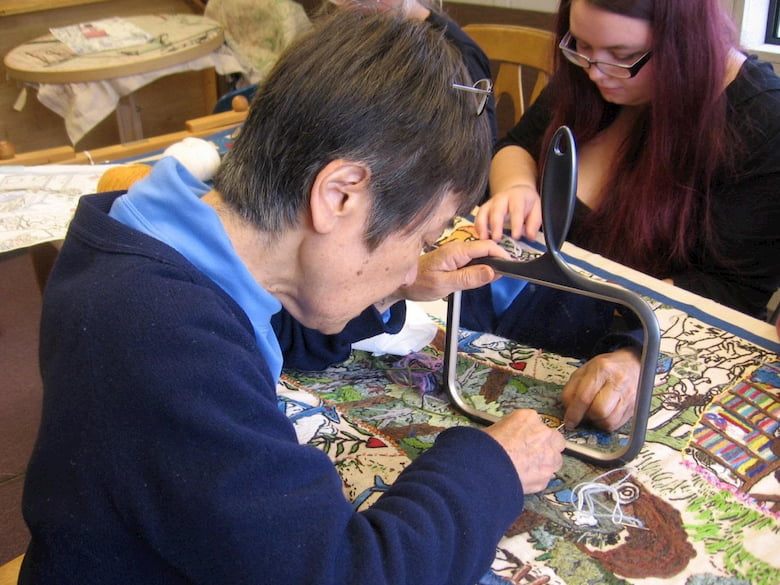 We refer to this publicity shy tapestry stitcher as "Ms. M" She has been a vital participant in the tapestry project for at least 7 years. While she sometimes takes up the task of stitching onto the tapestry the image of a Ridge structure that she knows well, she would rather stitch colorful areas.
Her favorite project was stitching the salmon along the border of The River tapestry, a band of bright red fish against a bright blue background. Stitching rows of colorful books in a bookcase in the Blue Cradle tapestry gave her the opportunity to select a wide range of colors. A stack of pillows on her chair at the tapestry frame helps to bring her short stature up to a working level though she often works standing up to ease a back that needs special care these days.
Ms.M. has wide experience with hand work and design since her childhood. She learned French embroidery during rainy days at school when recess outside was not an option. In school she also studied water color and oil pastels and earned a degree in Graphic Design, a career of many years. She has spun wool and knitted sweaters for her family. For years she studied Bharata Natyam, traditional Indian temple dance, a continuation of her love of dancing as a child.
Now that she is retired, she enjoys stitching with people she would otherwise not get to know. Her two favorite tapestries are The Blue Cradle (her youngest child used the cradle) and Building the Oak Tree School.
---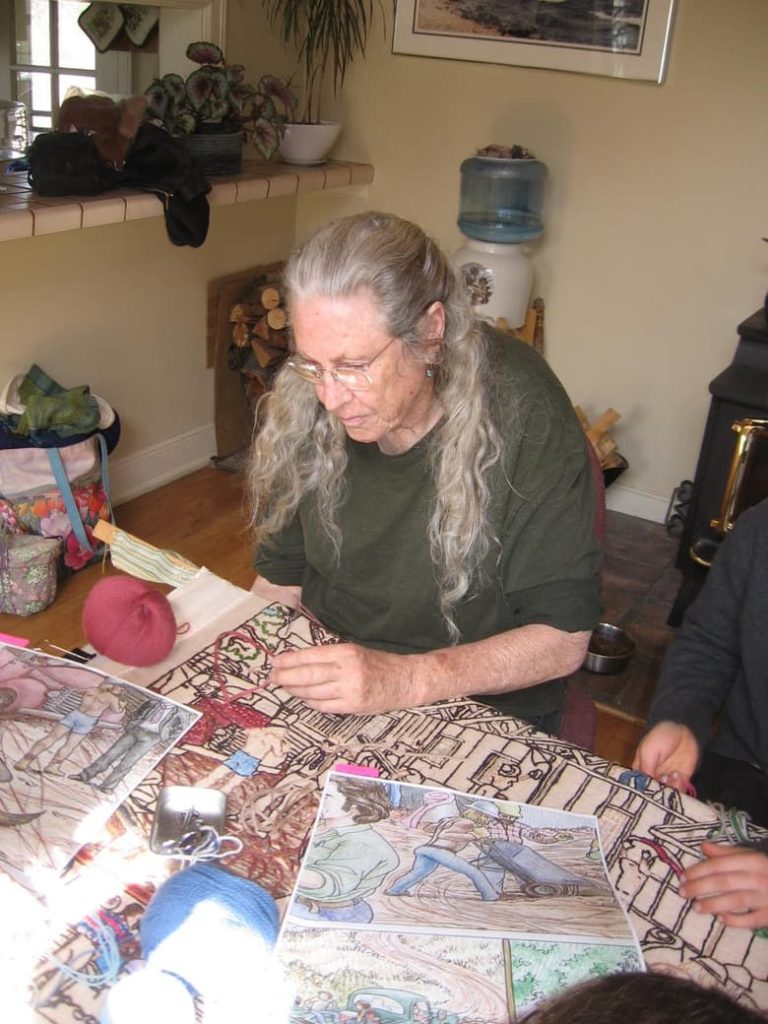 Barbara McQuiddy, a skillful practitioner of so many arts and crafts, has been stitching with us since she returned to retire on the Ridge after a long career teaching blind children. We have followed the progress in the finishing of her lovely new Mediterranean style home. She works on beautiful walls of lime plaster with pigment, making tiles, preparing metal railings, and shaping a decorative fountain in the inner courtyard. Her workshop is a wonder to behold. And like so many land owners in this area she works clearing blackberries with the help of her son Jesse. After hearing so many stories about Jesse, we all hope to meet him and to visit the Exploratorium in San Francisco where he works behind the scenes to keep water and all else in the building functioning.
Barbara's favorite tapestry project was the challenge of stitching a large rock in The River tapestry. We appreciate that she notices when materials need improving, such as a lack of sharp needles, or that the height of the frame is uncomfortably high or when the tension on the fabric is too slack. She looks out for places in the tapestry where the drawing or the tracing of the pattern is not clear and takes responsibility for correcting it.
As a regular stitcher, we feel her absence when she has to be away on business. One can count on lively discussions of cooking, restaurants and unusual ingredients when Barbara is around. A gourmet cook, she has hosted the stitchers for a party at her home. She is also part of a newly formed knitting circle and inspires us with her energy and challenging projects.
---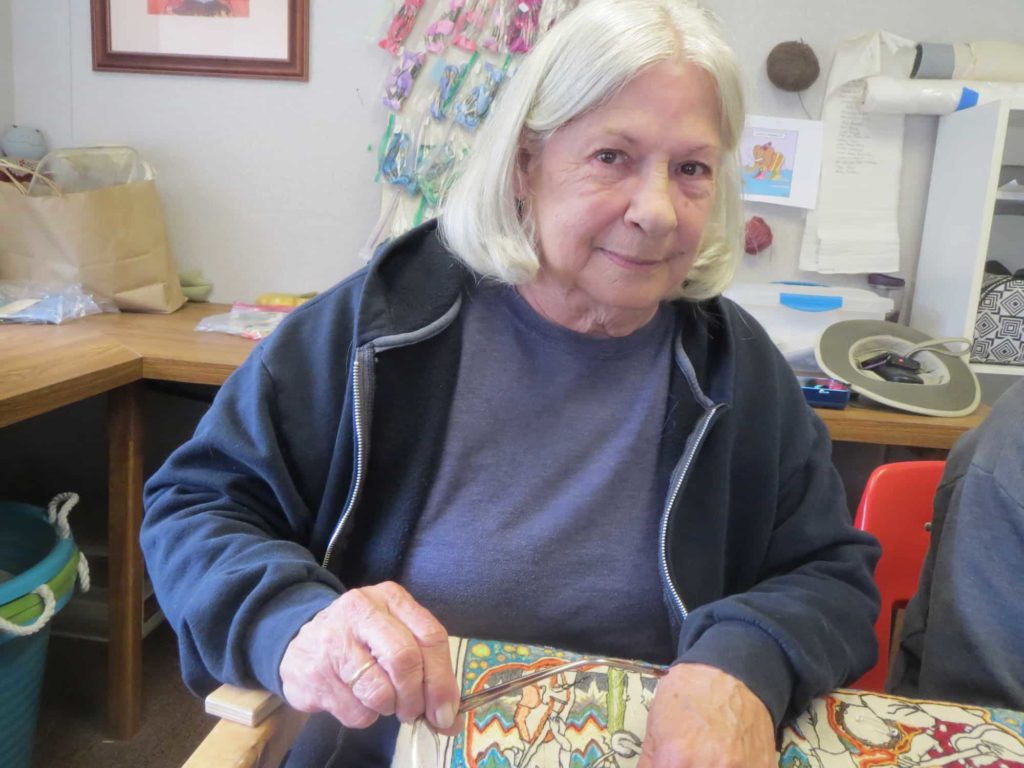 Becky Burton, Becky has been a delightful addition to the stitching group; with her silver hair, big brown eyes, husky laugh and dry humor. As she says, she gets lost in the embroidery, enjoying that the results look nice and hoping that other folks like her work. The portion of the Artists and Arts tapestry that she has worked on with the most pleasure has been the image of her good friend Nici von Kreidt.
---
Robbie Sellery glides into the tapestry room with sparkling blue eyes and a happy smile and laugh. She has led an adventurous life, swimming with turtles in Hawaii, twice walking into the Grand Canyon down the Phantom Ranch trail and luxuriating in the vivid greens of Ireland. Her sweetie revealed to me that she used to play volleyball at Venice Beach. But for her, having children and grandchildren is the best experience of all.
Recently her 3 year old granddaughter asked her to make a red nightgown that perfectly matched the one she had seen in a book. And, of course, Robbie did it to the delight of her granddaughter.
We were all amazed with Robbie's interpretation of a large ponderosa pine tree in the Fire Department tapestry.