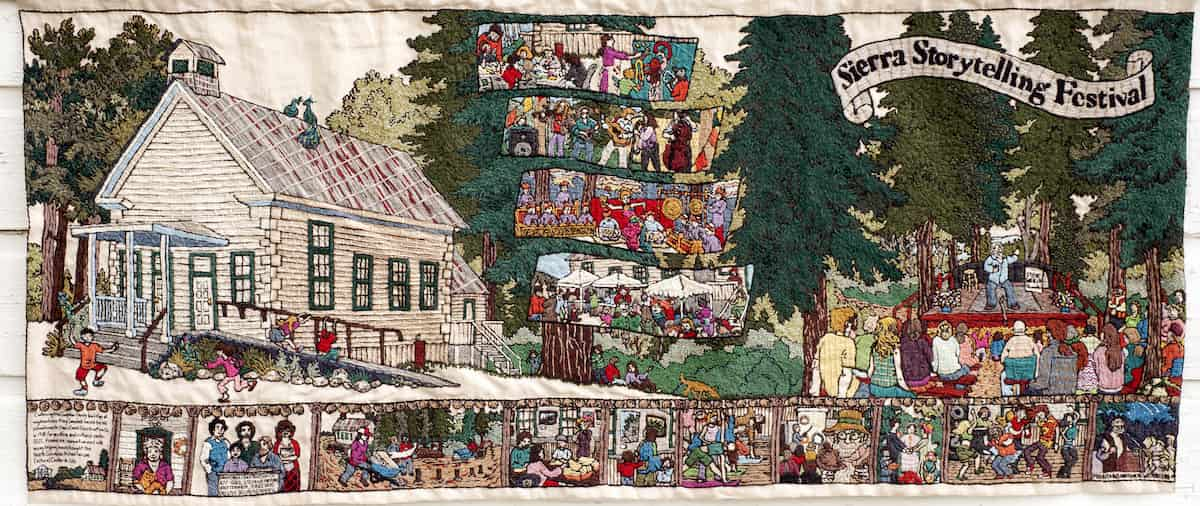 This tapestry showcases the historic schoolhouse, now a center of community life. The origins of the Cultural Center and the Sierra Storytelling festival are depicted. Also shown are dances, performances, art shows and children's Art Camp. In the lower right hand corner, Gary Snyder reads his complete work, "Mountains and Rivers Without End."
Below: Detail of the above in three sections

Left: Explains that the Cultural Center building belongs to the Coughlan family. Mary Campbell, the matriarch of the family during the 1980's, after the schoolhouse ceased being used as a school, wanted the old building to be used as a community center. She leased the old schoolhouse to the Shady Creek Construction Company, who incorporated it as the North Columbia Schoolhouse Cultural Center, a non-profit organization.
Middle Left: Mary Campbell
Middle Right: The four people involved in the Shady Creek Construction Company; Bruce Boyd, Jeff Gold, Holly Tornheim, Stefanie Freydont. Merle Pendell, the fifth in the image, was the secretary involved in the incorporation process. Shady Creek Construction funded the renovation of the schoolhouse.
Right:Within a year of the incorporation, the amphitheater was built by volunteer labor. Here, Holly Tornheim wheels cement for the bench posts, and Kurt Lorenz drills post holes. To this day, the amphitheater is used for many events, including the renowned Sierra Storytelling Festival.
Events depicted above:
Top Banner: Art Camp
Second Banner: Musical Events
Third Banner: Gamalon Performance
Fourth Banner: Autumn Shindig
Lower section
Left: Building the amphitheater.
Middle Left: Member Mailing Party
Middle Right: Art Show
Right: Yoga Class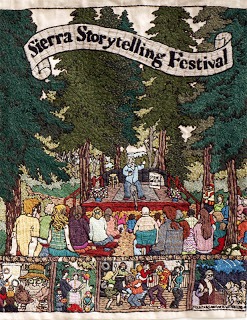 Storytelling
Main section
Storytelling with storyteller and audience
Lower sections
Left: Fungus Foray
Middle Left: Wedding
Middle Right: Dance Party
Right: Gary Snyder's seven-hour reading of Mountains and Rivers Without End, puncuated by a meteorite shower.