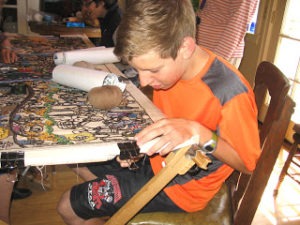 To Make an Embroidered Tapestry
Continuous activities: Raise funds for artist and supplies and talk with community about topics for tapestry
Step 1.  Research the topic, photos and interviews.
Step 2.  Find a very talented artist to draw the cartoon. Many meetings follow.
Step 3. Trace the cartoon onto the linen, back it with cotton fabric, serge the edges to protect from raveling.
Step 4.  Find and make lots of talented friends who like to get  together  and talk — convince them they can sew.
Step 5.  Embroider all the lines with black.
Step 6.  Color using all the traditional embroidery stitches and the Bayeux  Stitch(which saves yarn.)
Step 7.  Hem, line with white silk (this protects the stitches while rolling the tapestry for storage and gives a surface that can be checked for insect eggs), and attach a hanging sleeve.
Step 8. Locate an acid free box the right size, acid free tube(s), acid free paper for storing, and a safe place with security, stable climate, and no bugs.