It has taken 13 months but the Building the Oak Tree School Tapestry #6 is finished. The tapestry will be unveiled at the annual Sierra Storytelling Festival held at the North Columbia Schoolhouse Cultural Center July 17 to 19, 2015. The tapestry will be part of the finale for a larger Cultural Center Project funded by Cal Humanities. For information about the Festival contact the Cultural Center (530)265-2826 or ncscc@nccn.net
Below are the names of  those wonderful folks who stitched for more than 1000 hours to complete the tapestry. Their signatures on muslin fabric will be sewn on the back of the tapestry.
Tapestry #7 is on the quilting frame in our new workspace so kindly donated by the San Juan Park District in the Oak Tree School area. Having a room of our own means we don't have to dismantle the frame and carry the frame parts and 5 large storage boxes back and forth from home to car to meeting place and then back again each work day.  The frame stays up and ready for us to work. We are  very grateful. We will miss the wonderful company of the Resource Center staff who arranged work space for us last year besides carrying out their many services for the community. Diana's, Kathryn's and Kristin's encouragement and good cheer made it a very happy place for us to work.
The Tuesday stitching group.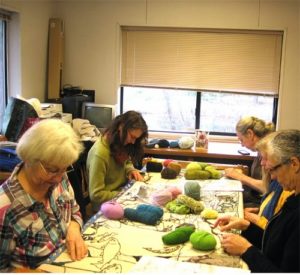 Jennifer Crosby finished the drawing for tapestry #7, The River, in December 2014.
Mary Moore, our chief of embroidery, is keeping very busy with questions about color choice of yarn and stitching style. This tapestry presents new challenges with views both above and below the river's surface as well as the color changes caused by sun beams in the river.
Local fishermen helped us with which insects and fish to include in the tapestry. Local river lovers tell us that they recognize some of the rocks Jennifer included in her drawing. A chance meeting with Fish and Game  expert Roger Bloom, at the river near Park's Bar one day, gave us the opportunity to learn why it has been so difficult to get the color right for the fish.  Many  fish have chromatophores in their skin, which change color with emotions and circumstances.
Finally, we are grateful for the many donors to our Indiegogo fundraiser. We believe we have enough money  for 3 more tapestries.
– Marsha Stone